'Right-sizing' towards luxury living is the newest trend
Low maintenance properties with house-like proportions are in demand according to Knight Frank's Rightsizing – Australian Prime Residential Insight 2020 report.
Published by The Real Estate Conversation – written by Knight Frank Group.
The latest buzzword amongst property buyers is rightsizing and according to the latest research from Knight Frank, it has become a strong trend in Australia.
Rightsizing is the downsizing lifestyle trend towards luxury apartment living and it is taking off across all demographics.
According to Knight Frank's Rightsizing – Australian Prime Residential Insight 2020 report buyers are looking for low maintenance properties with all the benefits of house-like proportions and all the amenities.
At a glance:
Rightsizers are looking for similar proportioned living quarters but smaller maintenance of yards, security and proximity to hubs and amenities
Rightsizers come from all demographics including retirees, entrepreneurs, families and younger people.
The Gold Coast saw the highest portion of 3-bedrooms built, at 70% in medium-density projects, this expected to rise to 81% built by 2022.
The bottom line is buyers are looking for luxury apartments with at least three bedrooms and two secured car spaces in medium and high-density projects in prime suburbs in Australian cities.
The main rightsizing buyers are active retirees but there are two other main categories including the entrepreneur and the family, according to the report.
Knight Frank's Head of Residential Research, Australia Michelle Ciesielski said rightsizing also appeals to the younger generations.
"We are seeing this at a much earlier stage than in previous years given the agile, transient and global nature of their work and play," said Ms Ciesielski.
"For active retirees, many buyers tell us their house is no longer required to provide the lifestyle they want.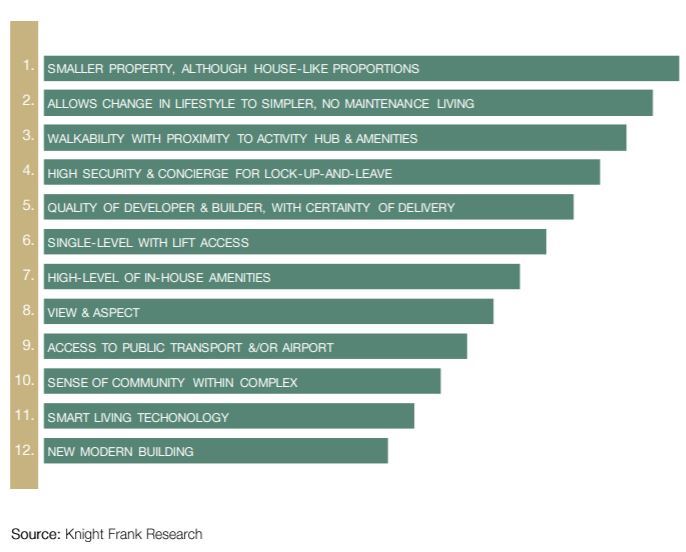 Top features considered by 'active retirees' when buying property in Australia
"Often the cost to upkeep the home, pool and garden outweighs the surplus space they once desired.
"Downsizing the living areas is not part of this movement – the yard most certainly – but the new luxury apartment must be the right size, with amenities to match."
Ms Ciesielski told WILLIAMS MEDIA these buyers are often influenced by the performance of the global and local business conditions, including the stock market.
"As we've seen in the past two years, while the mainstream residential market was in correction mode influenced by tightened lending, prime property continued to see positive growth through this time being less impacted by these restrictions," said Ms Ciesielski.
"The rightsizing trend towards luxury apartment living is widespread across Australia, with more active retirees, and this follows similar trends playing out in other global cities.
"This tends to be most prominent close to the capital cities and within the neighbourhoods where they're moving out of their large prestige home.
"More wealthy young families and entrepreneurs are competing with active retirees for new luxury apartments and townhouses, opting for a low or no maintenance lifestyle with their busy, often globally agile lifestyles.
Ms Ciesielski told WILLIAMS MEDIA the more pressing issue in Sydney and Melbourne is the number of new luxury apartments being built in prime suburbs are not keeping up with demand, especially with a 3-bedroom configuration or more.
"Cities like Brisbane and the Gold Coast, have seen more interstate migration from southern cities of active retirees and developers up there have been ahead of the curve in delivering a higher share of luxury apartments with 3-bedroom apartments and townhouses," said Ms Ciesielski.
Ms Ciesielski said luxury apartment trends to watch over the next three years include the growing 'active retired' group, the improved global connectivity with direct flights to Australia increasing competition from international buyers seeking second homes and the undersupply of product.
The Knight Frank research found the share of three-bedroom luxury apartments being built over the next three years falls for Sydney medium-density projects (to 44%), Sydney high-density projects (to 14%) and Melbourne high-density (to 21%).
The largest share of 3-bedroom apartments to be built in prime suburbs is in Brisbane medium-density projects (87%) whilst the largest growth in the share of 3-bedrooms being built is in Perth medium-density projects (from 27% to 50%). In the past three years, the Gold Coast saw the highest portion of 3-bedrooms built, at 70% in medium-density projects, this expected to rise to 81% built by 2022.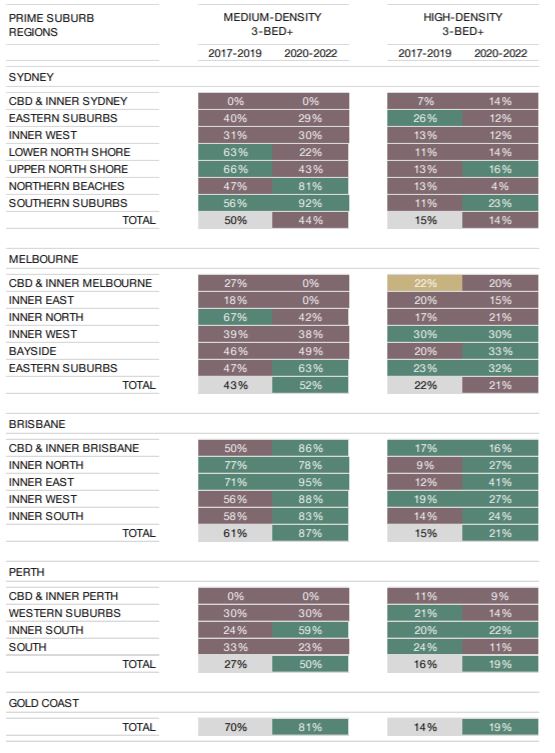 Portion of 3-bed+ configurated dwellings in medium– and high–density projects. Source: Knight Frank
According to Knight Frank Associate Director, Prestige Residential, NSW Adam Ross, demand from rightsizers in Sydney is coming from both retirees and increasingly entrepreneurs who are looking for homes without the hassle of maintaining gardens, pools and tennis courts.
"The geographical migration patterns for prestige properties have remained largely unchanged over the last 10 years," said Mr Ross.
"For example, we're still seeing people move from large homes on large blocks with pools and tennis courts in places like Wahroonga, Warrawee and Killara on the Upper North Shore to a three-bedroom-plus apartment or townhouse in McMahons Point, Milsons Point, Lavender Bay or Kirribilli.
"This enclave is also popular with people from Mosman and its surrounds due to CBD access, a variety of transport options, parks and close proximity to cafes.
"Potts Point is another popular spot for luxury downsizers from the Eastern Suburbs. Whilst many want to be at the "Paris end" of Macleay Street, its immediate surrounds are drawing interest from frustrated prestige buyers who can't seem to secure a property on the main strip.
Knight Frank Partner, Crown Residences at One Barangaroo, Erin van Tuil said the demand for rightsizing was more prevalent today than ever.
"Buyers of Crown Residences at One Barangaroo, which is arguably Australia's most prestigious rightsizing opportunity, are looking to move away from large houses into a home that provides a high-quality standard of spacious living, while reducing the maintenance costs, said Ms van Tuil.
"Crown Residences at One Barangaroo offers that exactly, but an added appeal for our buyers is a level of serviced living that is unmatched anywhere else in Australia, testament to the Residences being the most prestigious homes to ever list on the Australian market.
"As the country's first fully integrated hotel branded residences, our homeowners at Crown Residences have access to all of the services from the hotel below, from having their bed linen changed to ordering a private chef to their Residence, or even the more coveted of asks.
"Residents will also have access to amenities such as a luxury spa, gym, pool, tennis court and priority booking to the 14 restaurants below. For those seeking privacy and better accessibility, the Residences offer 24-hour security, a private entrance and valet parking.
Ms van Tuil said those who have already invested come from all walks of life with entrepreneurs seeking a city home to come and go as they please, families who imagine a home to cater for all ages and assist with the cleaning, linen and a fully stocked fridge, as well as retirees who seek no more than to thoroughly enjoy their later years in life, without the worry of maintaining a large house.
"Residing in Crown Residences at One Barangaroo lowers hold costs, with no need for cleaners, gardeners and other property maintenance costs." said Ms van Tuil.