7 Stunning Australian church conversions
For cathedral ceilings, original stained glass windows and plenty of old-world charm, you can't really go past a church conversion. We take a peek at some of the most spectacular church conversions in Australia – 'take me to church' indeed.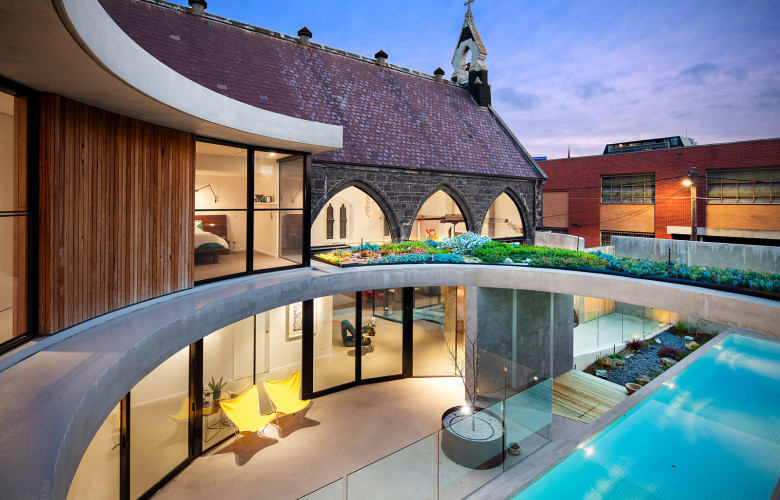 Dearly beloved, we are gathered here today to admire these incredible church conversions.
A place of worship and prayer, a church might seem like an odd place to live, but these seven incredible conversions will have you convinced otherwise.
Brisbane architect, Paul Uhlmann, told WILLIAMS MEDIA the most successful church conversions are the ones that embrace the unusual layout.
"Generally, the main church space is quite tall and open. The most successful conversions keep this main space as is, while the secondary spaces need to be accommodated outside of this main space," he said.
You might be thinking, now who on earth would actually live in a church?
Nelson Alexander Fitzroy's Arch Staver, who actually sold this epic conversion, told WILLIAMS MEDIA a church conversion certainly isn't for the average buyer.
"Churches certainly appeal to a very discerning sort of buyer.
"Because they've been built for large groups of people, they have to be quite spacious, and in a world of high-density living, when you come across a property like that there is a real demand for it," he said.
"I actually sold another church conversion about five years ago which smashed the sales records for that area. That was also a one-off converted space, which is where the appeal lies."
Staver told WILLIAMS MEDIA there is one rule that must be followed when converting a church into a residence – it has to be spectacular.
"Anything short of that is a real fail," he said.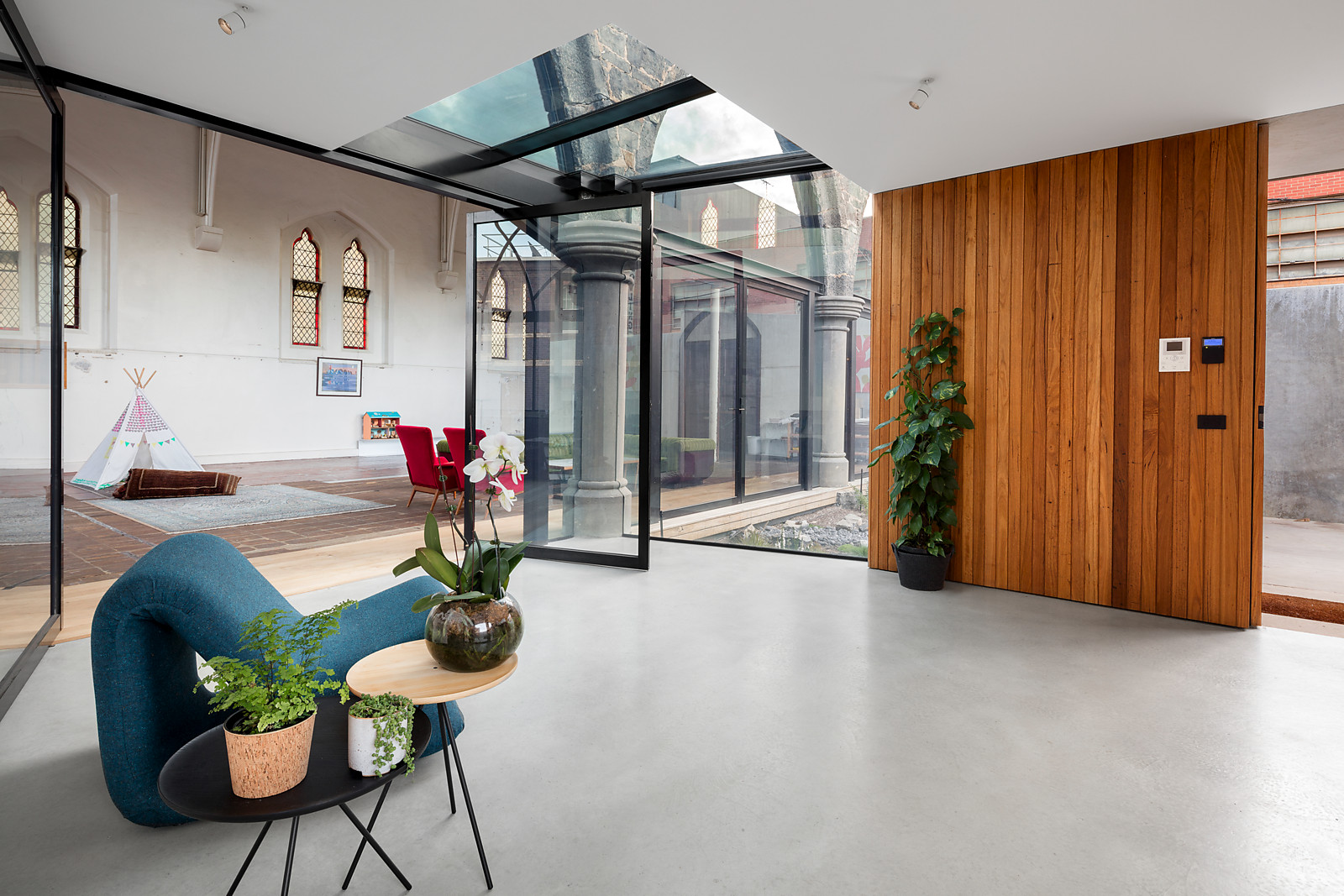 "A church was never meant to be a home, so the same rules of a warehouse conversion apply. You have a building that has been built for an entirely different purpose, and trying to create a domestic environment within that can be quite challenging.
"I've seen a number of conversions go terribly wrong. Often, they've tried to increase density, so instead of just the one standalone property, the developer has tried to add two or three.
"There is an extremely fine balance between getting it right, because it is very easy to get it completely wrong," Staver told WILLIAMS MEDIA.
So without further ado, here are seven church conversions that have definitely got it right.
1. Gothic meets contemporary in this Methodist church conversion in Queenscliff, Victoria
Constructed in 1888, the original Methodist church has been totally revitalised while still maintaining the integrity of the original building.
Vaulted timber ceilings soar above Baltic pine floors, contrasting with the clean lines of a "new modern heart are the first signs of an exultant re-creation".
Preserving the integrity of the solid church structure that envelops an equally impressive minimalist core was a virtuoso of genius. Old and new serve only to enhance the individual grandeur of each style.
79 Hesse Street, Queenscliffe, sold through Felix Hakins and Nicole Rowe of RT Edgar for $1.7m Featured on Luxury List.
Highlighted by artful architecture, a massive circular leadlight window reflects daylight.
Spacious open dining and living centre around a Masterchef's dream kitchen with Corian benches, pull-out pantries, integrated dishwasher, extra large self-cleaning oven and sleek ceramic induction cooktop.
The rest of the home is just as fancy schmancy – three bathrooms each contain double waterfall vanities, walk-in shower stalls, heated towel rails and automated temperature control.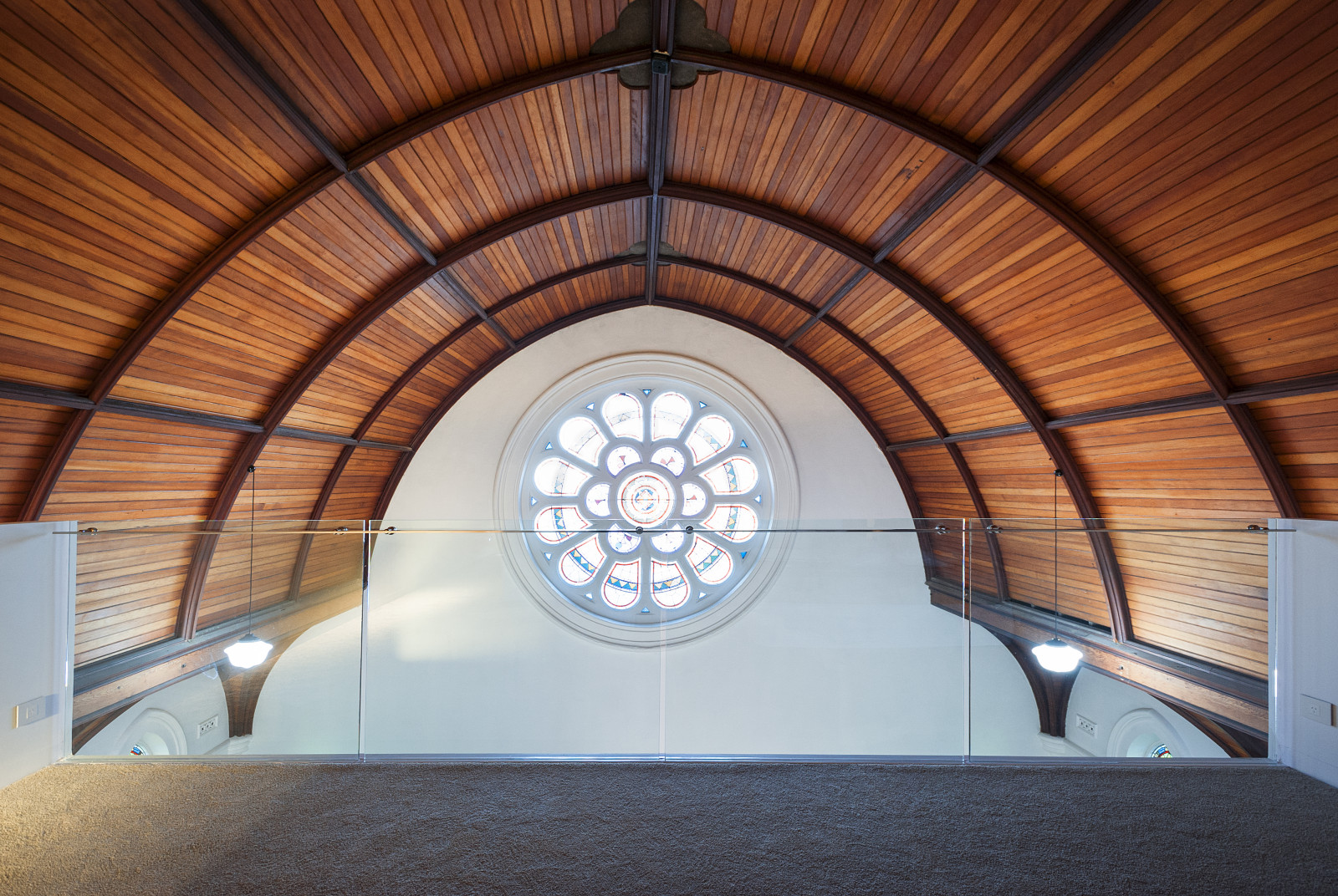 2. 1856 stunner in Alphington, Victoria
This church dates all the way back to the yee olde times of the 1850's, but just from looking at the slick, modern interior, you would certainly never know it.
Fusing stylish contemporary living with old-world original cathedral-ceilings, this church has been beautifully transformed into a sleek two-level family home.
799 Heidelberg Road, Alphington, sold through Simon Shrimpton and Jamin Silluzio of Jellis Craig as featured on Luxury List. Image: Jellis Craig.
The church windows and doors have all been left intact (because you would actually be insane not to leave the original features).
With an expansive open-plan living space, this home features three bedrooms, a mezzanine rumpus/study, outdoor alfresco living, as well as a state-of-the-art V-ZUG and Dekton kitchen.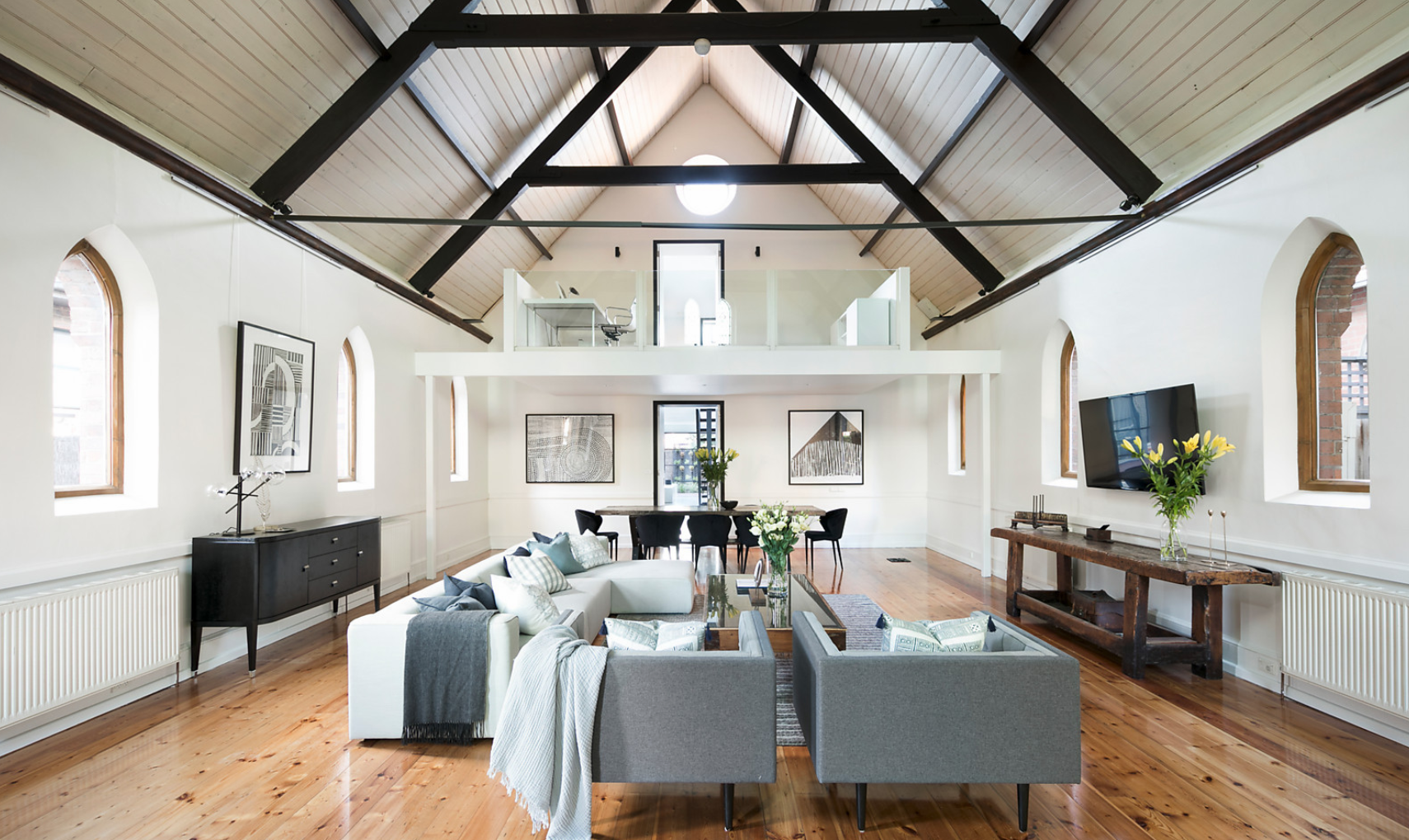 3. Bluestone beauty in South Yarra, Victoria 
A recent renovation of a bluestone South Yarra church shows how a great conversion can be accomplished with exquisite attention to detail.
This spectacular church conversion includes a cook's kitchen, with marble benchtops, Miele appliances, a walk in pantry, integrated refrigeration, and a 173 bottle Liebherr multi zone wine fridge – um, yes please, we'd like to move in immediately.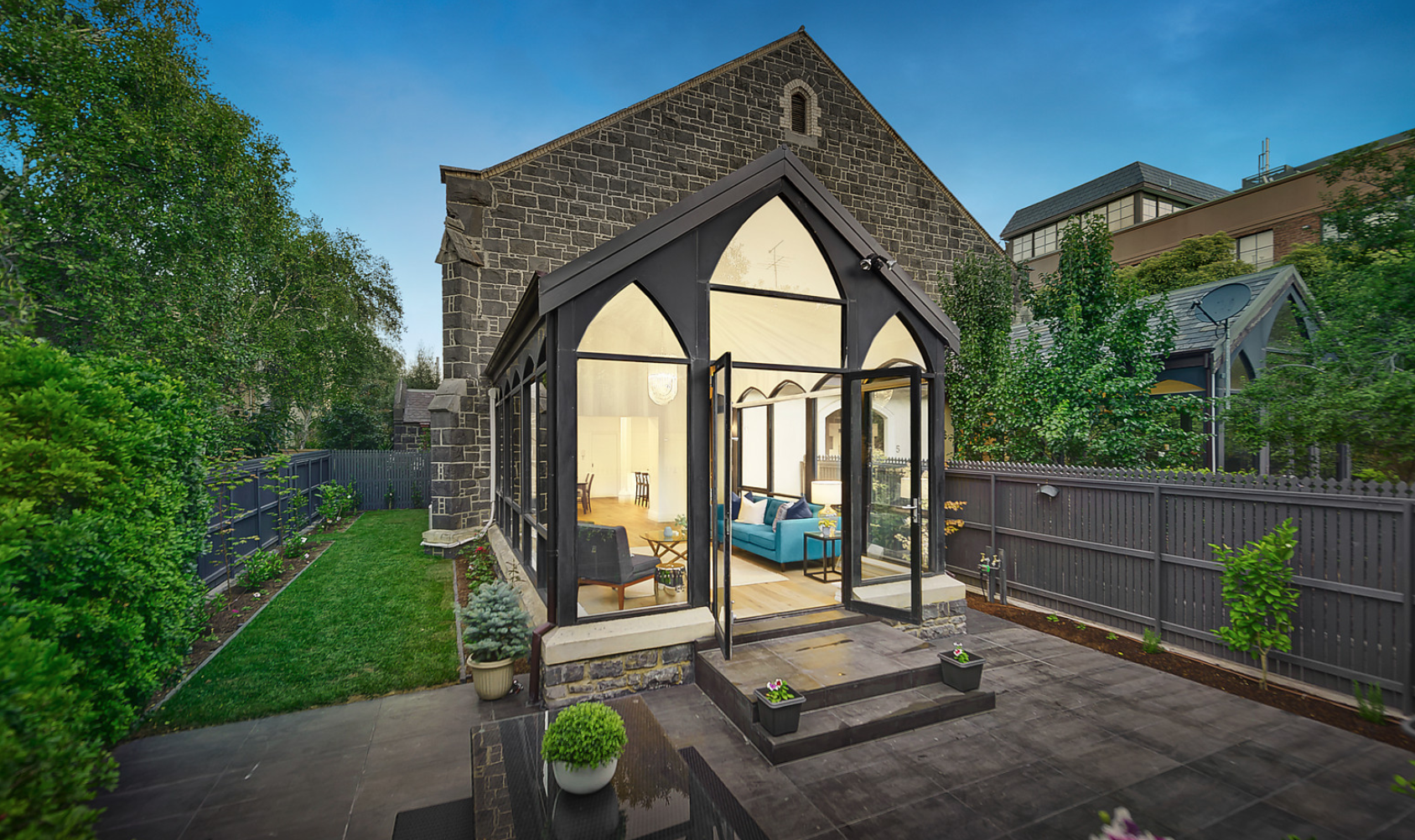 6/435 Punt Road, South Yarra sold by Lily Keating and Nathan Waterson of Jellis Craig as featured on Luxury List. Image: Jellis Craig.
An upstairs main bedroom with twin walk-in robes and an ensuite sets the benchmark for a further two bedrooms, each featuring built in robes and sky lighting, that share the top floor with a central bathroom finished in onyx.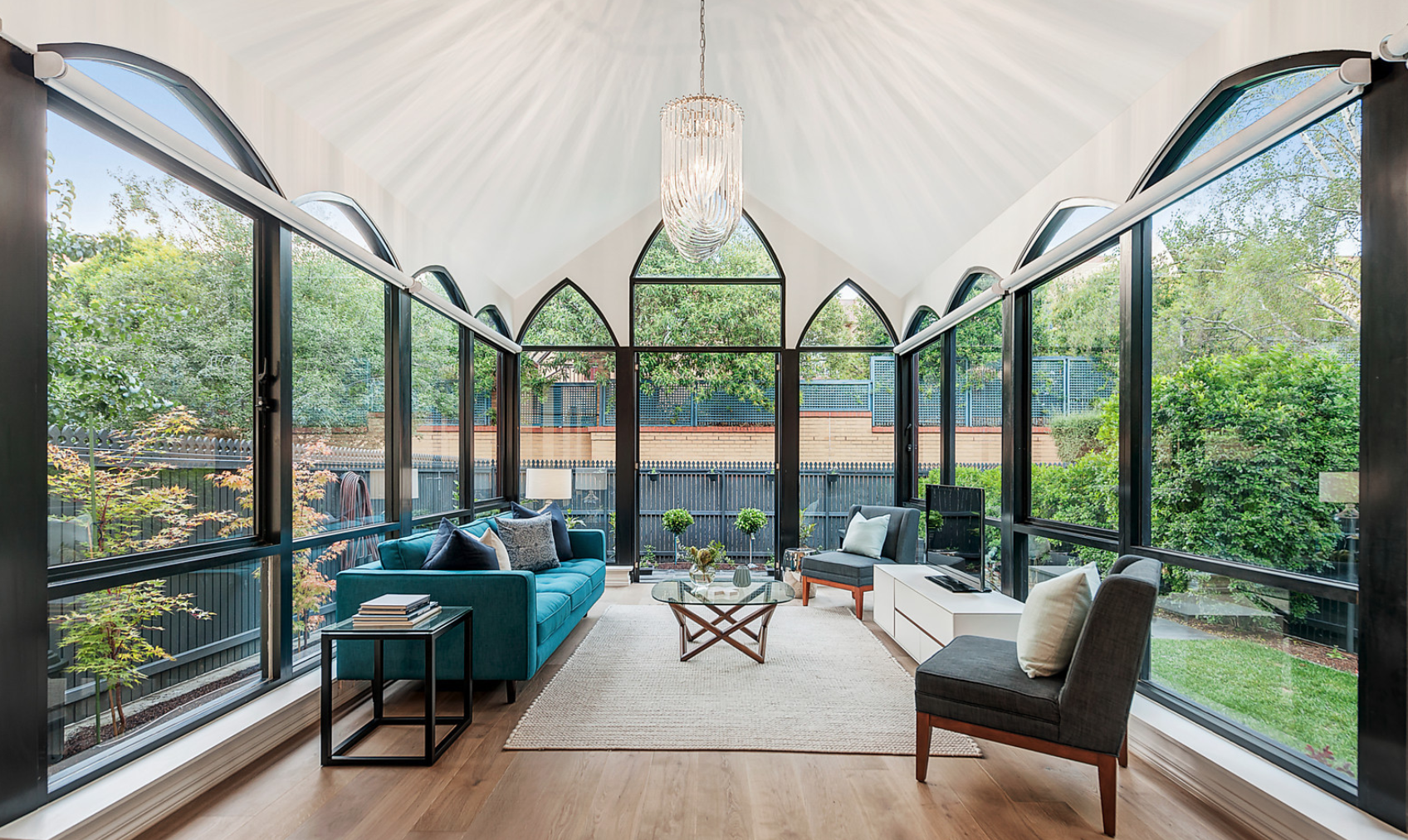 You'd be forgiven for thinking this was once a church, but the reality might surprise you. The original house was actually just your standard old brick veneer.
Yep, our jaws hit the floor too.
Dubbed "Melbourne's most unconventional renovation", an architect and interior designer couple saw the potential in the home, and decided to turn it into their gothic revival dream house.
32 Grammer Street, Strathmore for sale through Paul McDonald and Nicole Barrow of McDonald Upton Essendon as featured on Luxury List. Image: McDonald Upton Essendon.
While traces of the original home still exist, its new form makes it look like it could have once hosted sermons and Sunday school.
Inside the four-bedroom home, ceilings soar more than 7 metres high.
Chosen for its north facing aspect, the gothic revival aesthetic is meticulously observed via ornate gabled roofing, soaring cathedral ceilings, arched, diamond etched windows, and a magnificent floor to ceiling arched lead-light feature window.
5. The crème de la crème of conversions in Collingwood, Victoria
There are church conversions….and then there are church conversions.
Designed by owner-architect Ilana Kister, this church conversion has been shortlisted in the INDE awards, and in the 2017 Houses awards.
"This property is a perfect example of a church conversion done well. It is very sympathetic to the gorgeous building, the architect has integrated a whole new contemporary home into it," Arch Staver, of Nelson Alexander Fitzroy, who sold this conversion told WILLIAMS MEDIA.
Distinguished by curvilinear timber walls and waxed concrete floors, this unique home incorporates superbly scaled living and dining areas, four double bedrooms (dressing room and ensuite to main), state-of-the-art Miele kitchen and adjoining butler's kitchen, study, luxurious family bathroom, powder room and fitted laundry.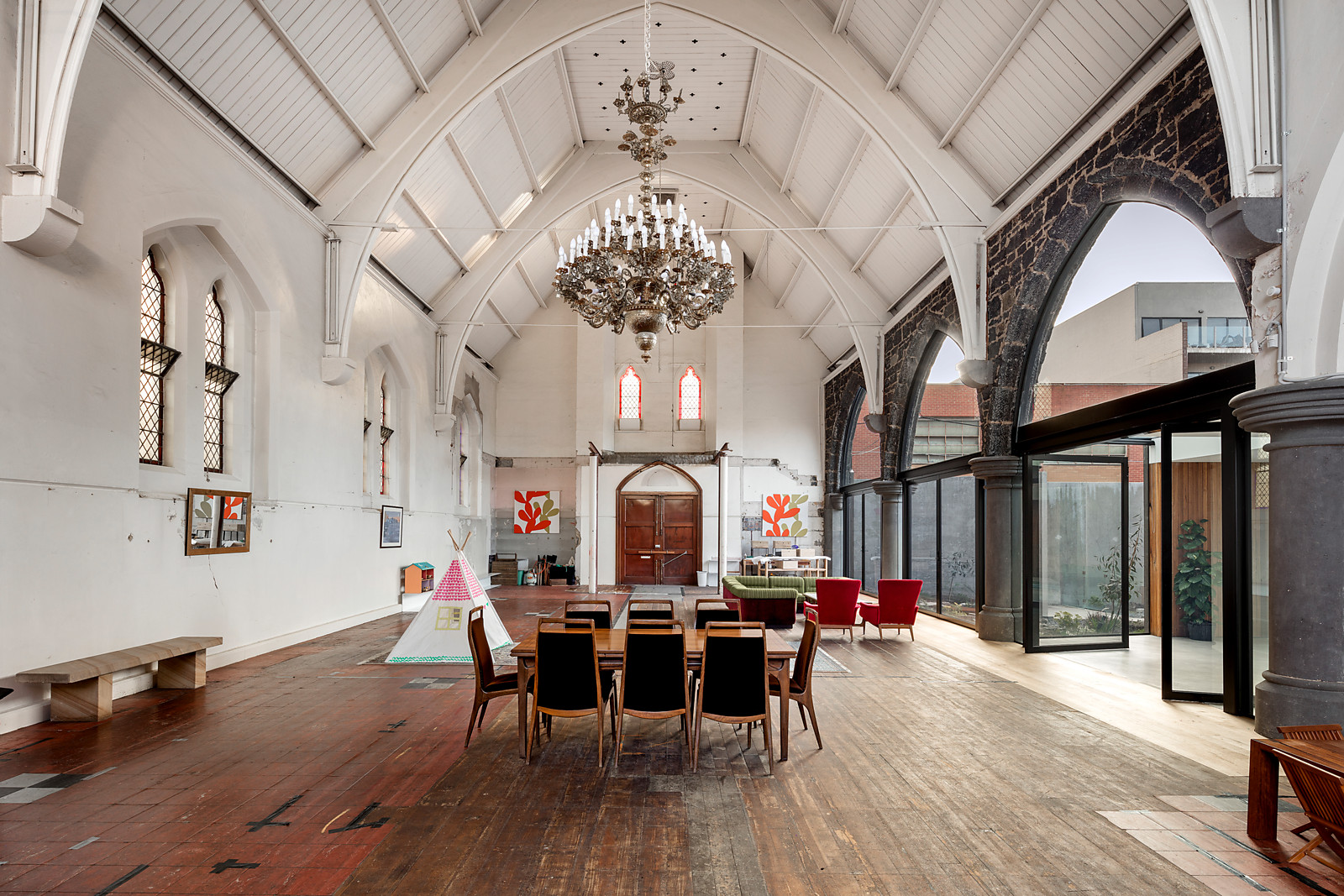 6 Oxford Street, Collingwood sold by Arch Staver and Rick Daniel of Nelson Alexander as featured on Luxury List. Image: Nelson Alexander.
The home also features a 17m solar heated/self-dosing lap pool, and a rooftop garden which is linked to the former St Saviour's church, now a gloriously versatile space for large-scale entertaining and home office use.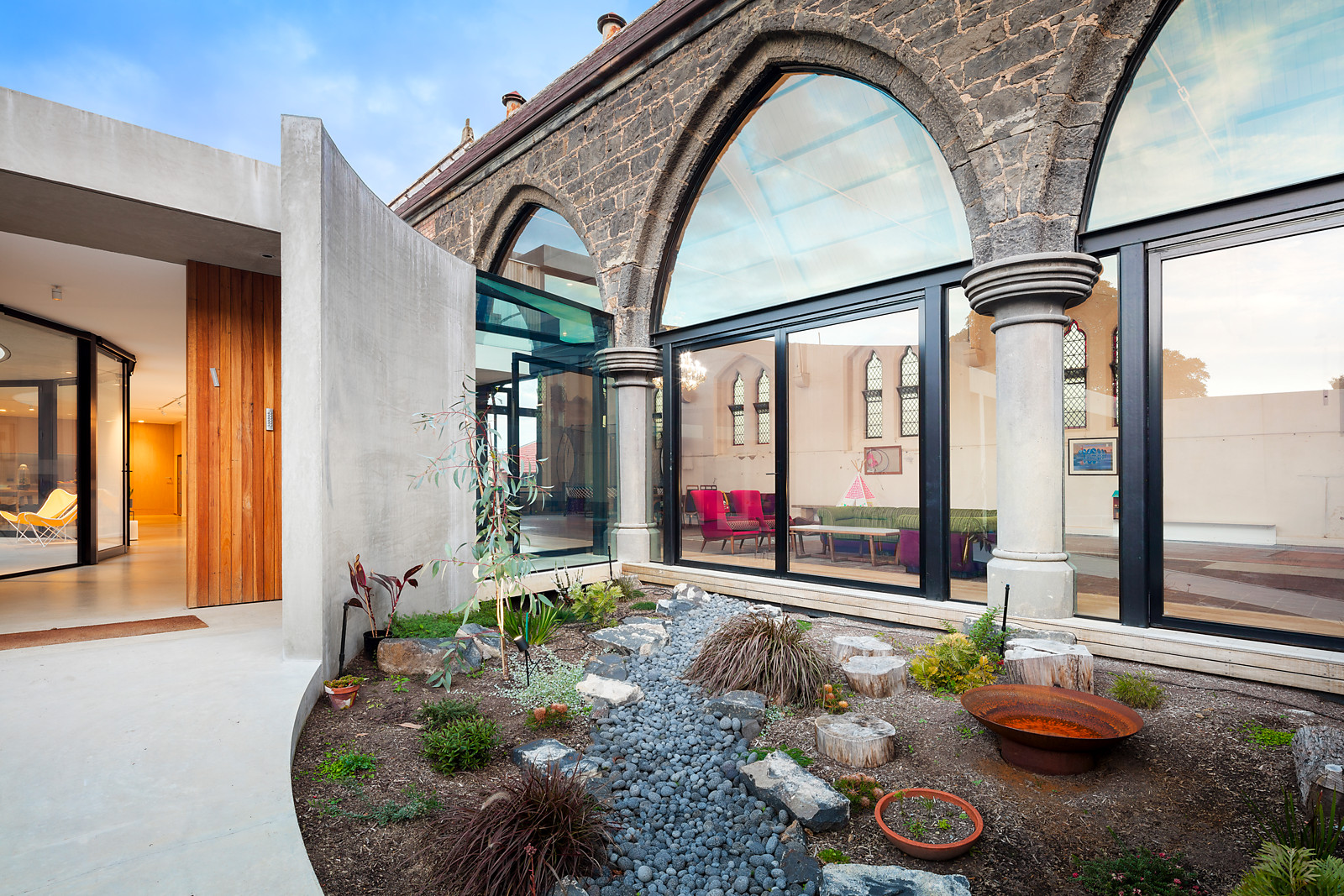 6. A church hall in Northcote, Victoria
Okay so strictly speaking, this was originally a church hall, but we digress.
The conversion of the original hall on Ruckers Hill showcases cinematic glamour and impressive authenticity.
42 James Street, Northcote for sale through Anthony Lapadula and Sam Rigopoulos of Jellis Craig as featured on Luxury List. Image: Jellis Craig.
Lovingly converted into a beautiful family home, this conversion features a vast, bright living/dining/family and a state-of-the-art kitchen.
Soaring 5.8m ceilings makes the space feel huge.
Linked by a courtyard, the trendy rear abode features an open design with a mezzanine bedroom and bathroom/laundry.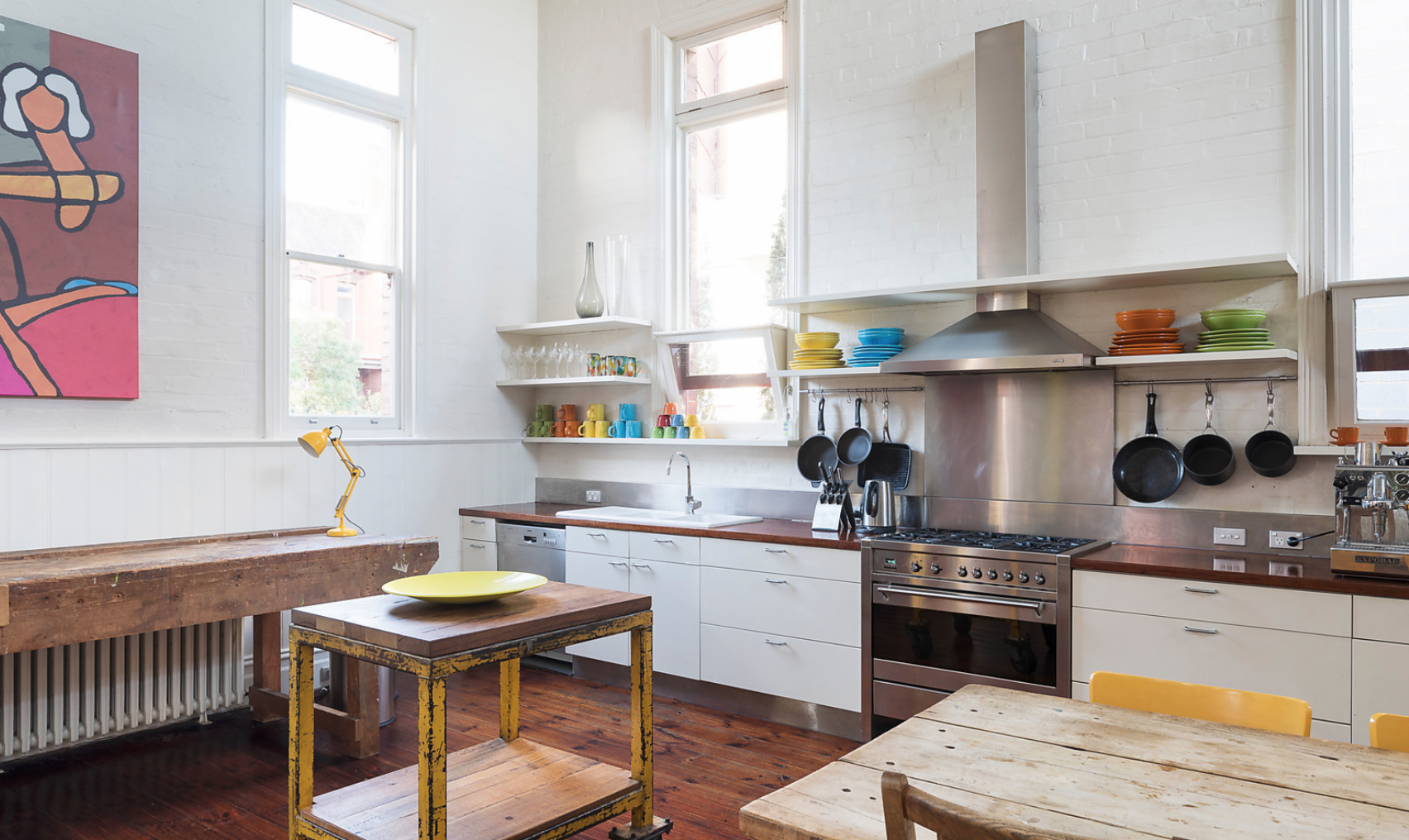 Only one word comes to mind when looking at this 1860s genesis and architect designed conversion – cosy.
This spectacular Gothic Revival church residence offers an utterly unique lifestyle experience highlighted by soaring cathedral ceilings and stunning ecclesiastical character.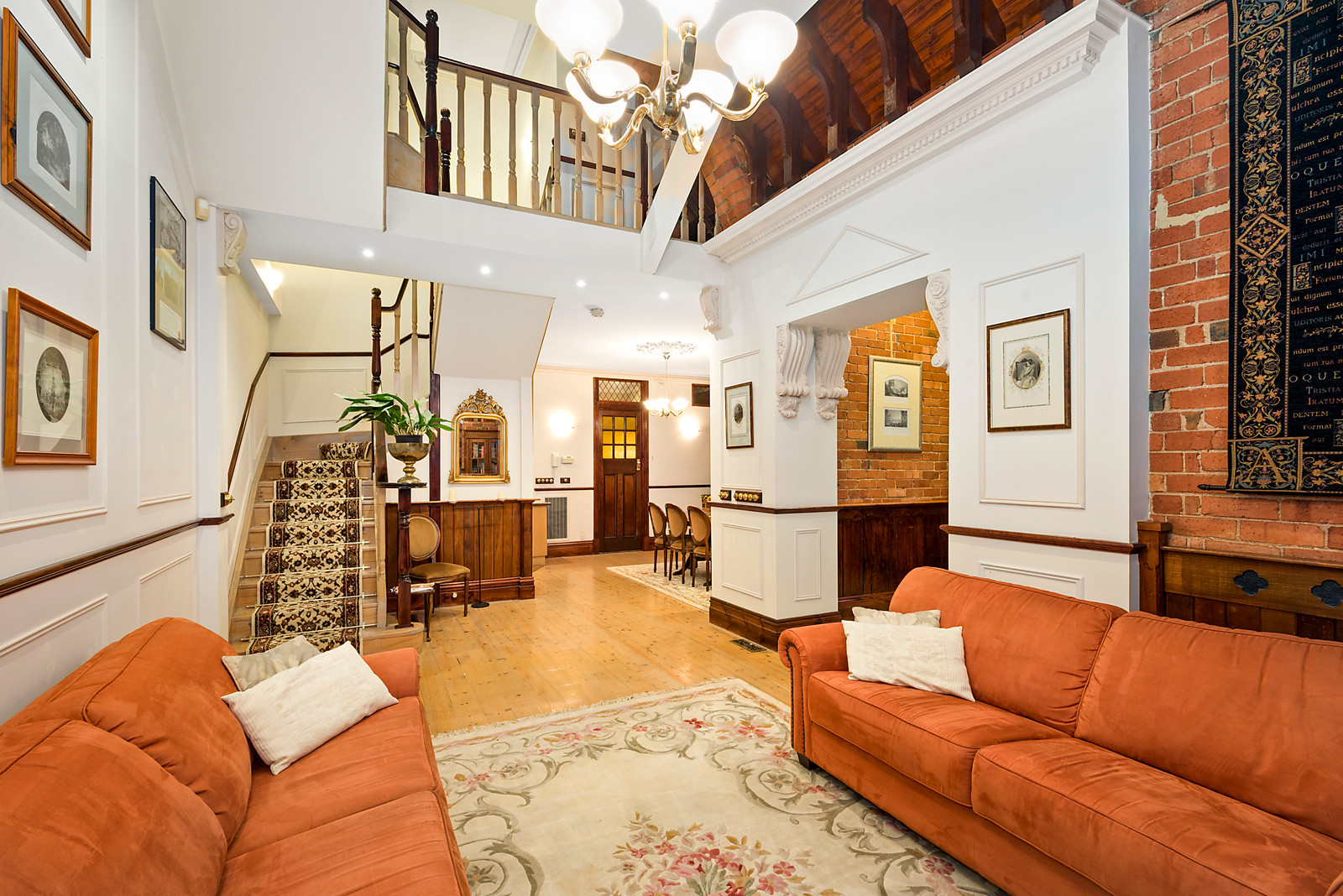 1/103a Blyth Street, Brunswick. For sale through Belinda and Hamish Lindsay of Collins Simms as featured on Luxury List. Image: Collins Simms
The architects own original congregation hall, the home includes two big bedrooms, impressive living and dining spaces that open out onto a secluded deck.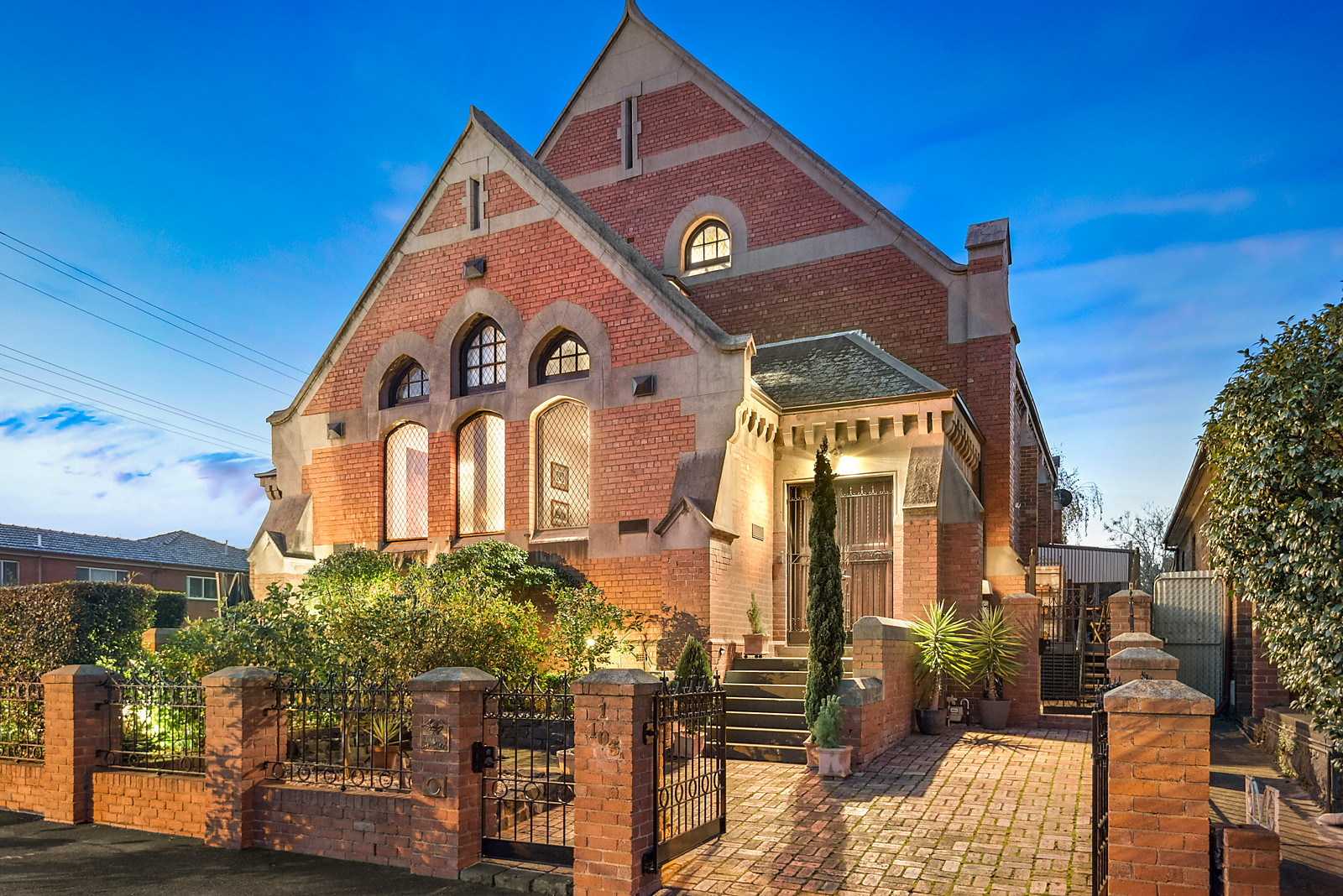 1/103a Blyth Street, Brunswick. For sale through Belinda and Hamish Lindsay of Collins Simms as featured on Luxury List. Image: Collins Simms
Will you make your next home a church conversion?